5 Simple Secrets to Fight Alzheimer's… From Your Own Home
The spice that Vanderbilt University declared, "One of the most promising new treatments for Alzheimer's disease [that] may already be in your kitchen."


The simple vitamin deficiency that could make you twice as likely to get Alzheimer's, confirmed by the New York Times.


Fruit juice that "can delay onset of Alzheimer's disease," according to Fox News, by boosting memory, learning, and mood chemicals.


The grocery store treatment that reversed one man's symptoms. "…It was like a light switch clicked on and the fog lifted."


The antioxidant that dissolves the toxic proteins that cause Alzheimer's Disease (proven by Swedish scientists).
---
Dear Reader,
"She was one of the highest functioning residents…"
The nurses in Rose's memory care unit were shocked.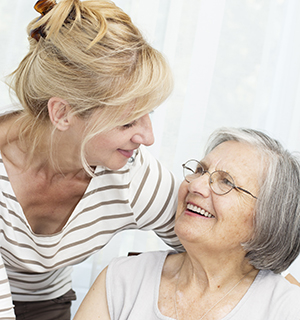 Because Rose had advanced Alzheimer's. And yet she knew that the capital of India was New Delhi…and that the Parthenon was in Athens. She could complete entire crossword puzzles.
Was it due to Big Pharma's latest Alzheimer's disease (AD) drug? Of course not. It's all thanks to the hard work and research of her daughter.
She'd read about the wonders of an exotic spice in treating AD. So she pushed to find a facility that would let Rose take it in capsule form. It's a good thing, too.
"I believe it helped her to stay mentally sharper than most of the other residents of her memory care unit," she explained.
Rose's daughter shared her story online. But that's just the tip of the iceberg.
Vanderbilt University calls it, "one of the most promising new treatments for Alzheimer's disease [that] may already be in your kitchen."
Scientist David Schubert confirms that if you give the spice to mice, "the [Alzheimer's] plaques go away."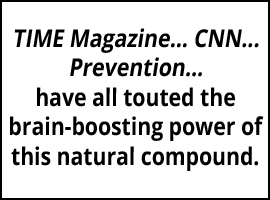 Time Magazine…CNN…Prevention…have all touted the brain-boosting power of this natural compound.
You can find the extract in just about any health food store. Chances are, you've already got the herb in your spice rack. It's that common.
The truth is, your pantry could well be—for all intents and purposes—a veritable Alzheimer's clinic.
Because this is just one of many memory-boosting weapons hiding in plain sight.
Big Pharma may not want you to know about these solutions… And your doctor may not even know about them. But that doesn't change this one simple fact:
The first step to preserving your brain and memories may be
as simple as stepping into your own kitchen.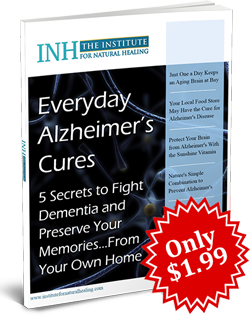 That's why we've put together an important guide:
Everyday Alzheimer's Cures: 5 Simple Secrets to Fight Dementia and Preserve Your Memories…From Your Own Home.
In addition to this potent brain spice, it details four more of the most important and easily accessible weapons for warding off Alzheimer's.
The cost? Just $1.99. The information? Invaluable. It could save a life.
Plus you don't risk a thing. More on that in a moment, but first here's a little more about some of these safe and effective treatments. Starting with one that works synergistically with the spice I just mentioned…boosting your brain power like nothing else.
Everyday Alzheimer's Cure #2

The research comes from Dr. Milan Fiala at UCLA. Dr. Fiala is a leading researcher in the field of Alzheimer's. He's a graduate of the University of Geneva, Switzerland with an MSc from Harvard. In 2008, he was given the "Alzheimer Award" by the Journal of Alzheimer's Disease.
And he discovered that when you combine the common kitchen spice with another nutrient, they destroy the proteins that cause AD from every angle. It's like the spice comes in to break up the protein. Then this vitamin swoops in to clean it all out.

Not only that, but in another study, researchers found that people severely deficient in this vitamin were at a 395% increased risk of facing Alzheimer's. Yes, almost 400%!
The Huffington Post even reported that this nutrient can help the brain fight off amyloid plaques that lead to AD.
But this is one vitamin you can easily get at home if you don't want to supplement. Our report shows you how.
Along with…
Everyday Alzheimer's Cure #3

This simple solution may already be sitting in your refrigerator. It's a common fruit juice. Really common.
In one study, 21 patients with moderate-to-severe AD drank two, four-ounce glasses of this juice each day. After just 30 days, their mood and behavior improved. They experienced less anxiety, depression, and delusion.
The head researcher noted, "They had a better quality of life."
Another study on mice found the same thing. The animals drinking the juice produced less of the protein that causes brain plaques. They also performed better on memory tests.
And surprisingly, eating the whole fruit just isn't as effective. Find out why in our report Everyday Alzheimer's Cures. Then run out to the grocery store to stock up on this juice…if you don't already have it.
While you're at it, you'll want to grab some of this…
Everyday Alzheimer's Cure #4

Mary's husband just kept getting worse. His doctors tried one drug after another. Desperate, his wife researched the "why and how" of Alzheimer's. She found that AD patients had brain cells that were unable to process glucose. That's the brain's primary energy source.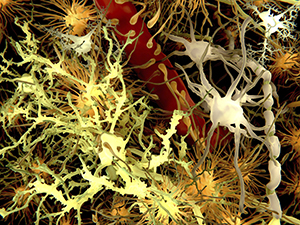 Without it, neurons die. But Mary, from Spring Hill, Florida, found another energy source that can "refuel" the brains of Alzheimer's patients. And she discovered that one grocery store item is a major source of this alternative fuel. A daily intake of this food halted her husband's symptoms. In fact, it reversed much of the damage done by the disease.
Then there's the 67-year-old Mr. Parmar from London. His AD was so advanced he wasn't even able to take the test to assess just how bad it was. Then his son started giving him two teaspoons a day of this food.
He reported, "Before... Dad's speech was gone and he couldn't remember his name or his date of birth. Now… We go for walks. He even remembers his national insurance number. We're so happy."
At my local grocery store, you can find this food in aisle two…
And while the mainstream will tell you that "more research is needed" (and that may well be the case) the evidence so far is significant. There's no reason for you not to stock up on this safe, brain-boosting compound right away.
Everyday Alzheimer's Cure #5

Researchers treated mice suffering from Alzheimer's with yet another nutrient. And what they saw was jaw-dropping.
This vitamin disintegrated amyloid plaques in their brains right before the researchers' eyes.
CNN has reported on the anti-AD wonders of this nutrient…So has Health Magazine…LA Times…as well as hardcore medical journals like The American Journal of Alzheimer's Disease and Other Dementias.
In another study, scientists compared nutrient levels in the blood of two groups of elderly adults—
"mildly demented" patients and healthy people.
The study showed that levels of this vitamin were much lower in patients with dementia.
But to avoid a deficiency, it is best to get this vitamin from food, rather than in supplement form.
You'll discover what the nutrient is, as well as the six foods Harvard School of Public Health lists as "excellent sources" of it. Five of them will surprise you.
Act NOW to Start Fighting Alzheimer's From Your Own Home
Make no mistake… These solutions may be surprisingly simple. But that doesn't make them any less effective.
If you or a loved one have Alzheimer's or dementia, or if you're simply hoping to keep your brain strong for years to come, we strongly recommend incorporating each of these natural treatments into your regular routine.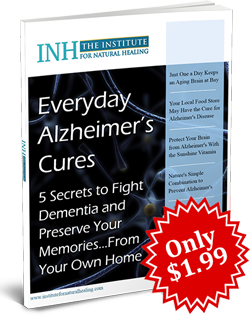 That's why we're offering this special guide at the low, low price of just $1.99.
You don't have to subscribe to anything to receive it. You aren't on the hook for additional payments. Just $1.99. AND you risk nothing by checking it out.
You have a full year to try out these solutions to see for yourself that they work. I have no doubt they will. But if you change your mind, let us know in the next 365 days and you get all of your money back. No questions asked. And the report is yours to keep either way.
You have nothing to lose and everything to gain by securing a copy of Everyday Alzheimer's Cures: 5 Simple Secrets to Fight Dementia and Preserve Your Memories…From Your Own Home for yourself.
In Good Health,



Angela Salerno
President
The Institute for Natural Healing
P.S. JUST ADDED! If you're serious about preventing Alzheimer's—or improving a loved one's symptoms—there's one more thing you need to know. In our research, we uncovered the Alzheimer's-fueling food that you absolutely must avoid. So we added it as "bonus cure."
Researchers from the Mayo Clinic studied people aged 70–89. The group showing signs of mild cognitive impairment had a higher intake of one particular type of common food. In fact, the people who got the majority of their calories from this food had a much higher risk of developing dementia. Four times higher to be exact.
The results even shocked the researchers…
Lead researcher Dr. Rosebud Roberts said, "I thought the big problem would be eating too little protein." But it wasn't. Discover this common food now. Click HERE to download this inexpensive report. It takes just a few minutes.
P.P.S. We've never offered a report like this at such a low rate before and may raise the price in a few weeks to $4.99. Now may be your one and only chance to get it this cheap. It costs less than 40 cents to discover each natural cure!

*Images used for illustrative purposes only.